Certification to teach Happy Face Yoga
Thank you so much for your interest in my Happy Face Yoga certification program which will certify you to teach Happy Face Yoga, the world's first and only medically-proven facial exercise program that helps to bring a youthful vitality to the face.
I will be instructing you to teach the same program I present at seminars and in classes, and it is the same program I will soon be using to certify instructors at a major spa here in Florida.
This program will prepare and certify you to teach Happy Face Yoga classes and seminars in your area!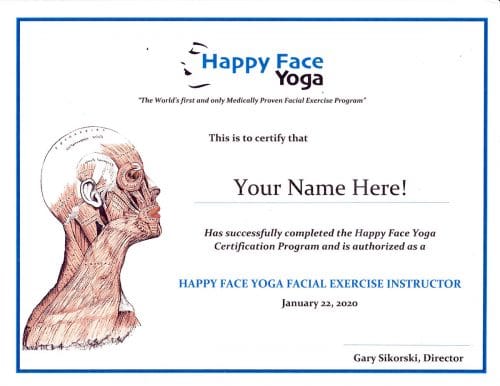 You will receive all the materials via mail and email and personal instruction via Skype that you will need to confidently teach Happy Face Yoga:
An attractive binder with all the needed training materials
The Happy Face Yoga DVD and exercise worksheets
Lesson plans for your classes
Pages for your presentation chart
Copies of all of the informational materials needed for teaching
Access to brochures and other promotional items
Discounts on the HFY DVD and worksheets which can resell for profit
Most importantly…my personal consultation whenever needed
And a colorful diploma you can frame and display
The cost of the complete Happy Face Yoga certification program is $499.00
The course will take approximately two months to complete, but this could vary. I will be providing instructions and guidance, but you can work at your own pace to learn the program.
It's easy to get started. Simply use PayPal to send $499.00 to GarySikorski01@gmail.com  This is also my personal email. Please email me with any questions you may have, or you can call me on my cell phone at 305-304-0880. Upon receipt of payment I will be mailing you the Happy Face Yoga certification course binder and we'll work together to plan your personal certification program!